Our mission is to improve the health of our patients and the community and advocate the feminist goals of social, political, and economic equality.
Driven by a 49-year commitment to health care as a human right, Santa Cruz Community Health is a leading nonprofit provider of high-quality, affordable and comprehensive health services in English and Spanish to all ages, gender identities, ethnicities, abilities and sexual orientations, regardless of their ability to pay.
Appointments and services
---
Call 831-427-3500 to make an appointment or visit your Patient Portal.
For after-hours medical advice: please call our main phone number.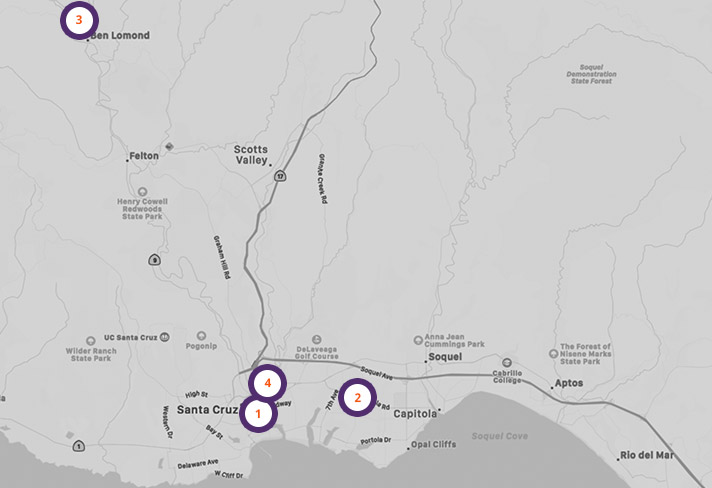 Acupuncture
Behavioral health
Cal fresh
Chiropractic
Health education
Insurance enrollment
Pediatrics
Prenatal
Primary care
Optometry
Women's health
*Referrals to other services
Clinic hours
Monday 8 am to 8 pm
Tuesday 8 am to 8 pm
Wednesday 8 am to 8 pm — special hours, quarterly on 3rd Wednesday of the month (12:15 to 6 pm)
Thursday 8 am to 8 pm at Live Oak Health Center, 8 am-5 pm at Women's Health Center
Friday 8 am to 5 pm — special hours, every 2nd Friday of the month at Live Oak Health Center, every 3rd Friday at Women's Health Center (10:30 to 5 pm)
Saturday 8 am to 1 pm (Live Oak Health Center only)
Sunday Closed
*Please visit the SC Mountain Health Center page for clinic hours
Our locations
Get the health care you need at one of our centers.
---