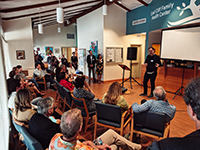 Children's Health is our County's Wealth.  And right now, there are too many children in our community whose families do not have the resources to ensure their good health.
In the Live Oak Elementary School, 25% of children are homeless.
And not surprisingly, 50% of Santa Cruz County families can't afford basic living expenses.
We are beginning to shift these trends in our community.
Through intentional design, unique partnerships, evidence-based models, innovation, and a lot of compassion, we are building a Pediatric Center of Excellence.
This is so we can provide comprehensive, wrap-around services to support children as they grow.  From effective prenatal care to ensure healthy births, to specialized care coordination for the all-important birth-to-three years, to innovative partnerships with the Live Oak School District where we collaborate with teachers and school counselors on the care of high-risk kids we are making the critical connections for our community of care.
Learn about our Pediatric Center of Excellence with our one-page summary.
Get all the details with our Pediatric Center of Excellence white paper.
Donate today because all children deserve the chance to grow up as healthy as they can be, with a good education, and bright prospects. Every family who worries about their children's health deserves a supportive health care team to see them through the tough times and into a rewarding future.