Get Covered!
Health insurance will help pay for the care you and your family needs to be healthy!  Our Certified Enrollment Counselors are available to help you apply or renew your coverage in Medi-Cal, Covered California plans (Blue Cross, Blue Shield, Health Net), and other programs like Family Pact and Every Woman Counts.
Call for an enrollment appointment (831) 427-3500.
If you've already applied, call us to learn about next steps.
Meet Our Bilingual Certified Enrollment Counselors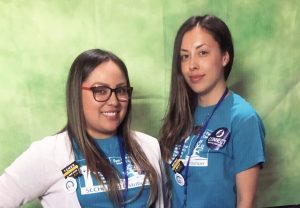 Areli Monroy
I have been at Santa Cruz Community Health Centers since 2015 and I currently work as an Outreach and Enrolment Specialist.  Through my work as an Outreach and Enrollment Specialist I advocate for patients by guiding them through the different health care options, facilitating nutrition access and resources.
I received my Bachelor's degree in Anthropology and Minored in Legal Studies at the University of California, Santa Cruz in the spring of 2014. Through my undergraduate career, I was involved with my community through various work and organizations.  After graduation, I continued to involve and dedicate myself through nonprofit organizations striving to better the community via outreach, education and by bridging accessibility to health.
Rosio Sanchez
Working as an Outreach and Enrollment Specialist here at Santa Cruz Community Health Centers, I serve the community with knowledge in the difficult world of the health insurance system; making it easier for community wealth and helping directly deliver healthy services.
I received my Associates in Spanish, Liberal Arts & Sciences from Cabrillo College and Bachelors  in Collaborative Health and Human Services with a concentration in Community Health from CSUMB.   Through my undergraduate studies I interned with Jóvenes SANOS at United Way of Santa Cruz.  This field placement experience allowed for me to directly service the community I grew up in.  My goal is to make community changes to empower equity, healthy lifestyle and better quality of life.
About Covered CA
Now Enrolling! / ¡Inscripciones Aqui!
Do I Qualify for Covered CA? / ¿Califico para Covered CA?
What to bring to your enrollment appointment / Por favor traiga los siguientes documentos
Already Enrolled? /¿Ya está inscrito?
Shop and Compare Tool
All patients will be served regardless of ability to pay.