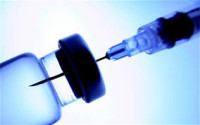 The new state vaccination law takes effect Jan. 1, 2016, Santa Cruz Community Health Centers (SCCHC), a leading nonprofit provider of high-quality, affordable and comprehensive health services to everyone regardless of their ability to pay, reminds parents and guardians of children.
Also known as SB 277, the law eliminates vaccination exemptions related to personal or religious beliefs for children attending public or private schools, as well as day-care centers. The law will impact students attending school in the fall of 2016.
Inspired in part by a 2015 measles outbreak that began in California at Disneyland, SB 277 was passed by the state legislature and signed into law by Governor Brown in 2015. The new law accommodates pre-existing personal or religious exemptions by honoring them until a child's transition to K or 7th grade.
"Santa Cruz Community Health Centers strongly supports the new vaccination law because it protects individuals from getting communicable diseases, protects the very small percentage of patients who should not be vaccinated, and protects our community from the spread of disease," said Casey KirkHart, DO, medical director at SCCHC. "Children's health is a top priority for us."
SCCHC served 3,768 pediatric patients from July 2014 to June 2015, and administered 8,444 vaccines.
"The new law allows for exceptions to be made by physicians for medical reasons," said Dr. Salem Magarian, pediatric medical director at SCCHC. "Serious side effects from routine immunization are extraordinarily rare. We encourage parents to discuss with your child's doctor any medical condition that may be relevant to making decisions about immunizations."
About Santa Cruz Community Health Centers
Through the Santa Cruz Women's Health Center and the East Cliff Family Health Center, SCCHC (a Federally Qualified Health Center) provides comprehensive primary care services in English and Spanish to all ages, genders, ethnicities, abilities and sexual orientations, regardless of their ability to pay. Seeded by the Santa Cruz Women's Health Center, SCCHC is driven by its originator's 40-year commitment to social justice and access to health care as human right. Its mission remains constant: to provide quality health services and advocate the feminist goals of social, political, and economic equality. SCCHC's health centers deliver high-quality care through compassionate, dedicated medical providers, health educators, and administrative staff. SCCHC's clinics offer primary care, pediatrics, prenatal care and education, mental health and substance abuse counseling, chronic disease management, health insurance enrollment, and more. Learn more at www.schealthcenters.org or www.facebook.com/schealthcenters.