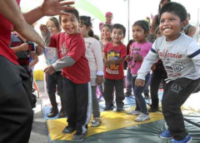 LIVE OAK >> A parent once asked his young first-grader what he liked best about school. His response: "The door to the way home." Heartbroken, the parent turned away in search of an answer.
That answer could be right around the corner as a touring exhibit known as the First 5 Express visited Live Oak Elementary School Wednesday. The Express is a statewide tour designed to entertain while educating kids and their families by way of reading, talking and singing. The goal, experts agree, is to engage the kids from birth to age 5 when 90 percent of the child's brain is being formulated. That's why this program emphasizes the family as a whole, officials say.
"Parents are the first teacher and they play a vital role in preparing children to succeed in life," said Vicki Boriak, a spokesperson for First 5 California. "We have three common goals: Be healthy, build strong character and (be) ready for school."
Although designed for bilingual families, the program is open to all families because the importance of an education can not be downplayed, Boriak said.
Only 38 percent of the state's third-graders are reading at grade level and that is "unacceptable," Boriak said. "This program gets the children ready to succeed in school."
The Express allows participants hands-on activities, which include story sessions, library geared for kids, nursery rhyme spin wheel and even an interactive karaoke booth. Wednesday's visit was in partnership with First 5 California, First 5 Santa Cruz County, the Live Oak School Districtand the Live Oak Cradle to Career Initiative.