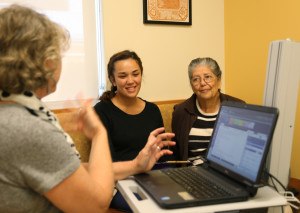 The clinic staff of the Santa Cruz Community Health Centers is comprised of caring, experienced, professionals who maintain a passion and an expertise for community health. Our medical team includes physicians, pediatricians, nurse practitioners, physician assistants, and nurses. Our team of Licensed Clinical Social Workers offer behavioral health services through individual counseling, brief therapies, and group visits and they work closely with primary care providers to integrate mental health services into each patient's care plan. Acupuncture and chiropractic care rounds out our whole person orientation to care. Our front office and billing staff are trained to help you find options to help pay for your visit and enrollment specialists are available to enroll you in health insurance (Medi-Cal and Covered CA), CalFresh, and other programs. Call us at (831) 427-3500 to make an appointment and to find a practitioner to meet your needs.
Santa Cruz Women's Health Center Providers
Click here for a list of providers at the East Cliff Family Health Center
Elisa Bréton, MD
Dr. Bréton received her undergraduate education at UC Irvine (1979). She later received attended graduate school in Sociology (1980-1985). Dr. Bréton attended medical school at Universidad Autonoma de Guadalajara, Mexico (1986-1989) and Mount Sinai School of Medicine in NYC (1989-1991). She completed her residency at the UCSF affiliated residency program in Santa Rosa (1991-1994). She was hired at SCCHC in April 2005 and works at the Women's Health Center. Dr. Bréton is bilingual in English and Spanish. Outside of work, she enjoys playing the accordion, yoga, biking, horseback riding, and various arts and crafts.
Sarah Flores, NP
Sarah received her undergraduate education in Health Sciences from University of California Santa Cruz (2005). She completed her Masters in Nursing at Samuel Merritt University (2010). She was hired at the Women's Health Center as a Family Nurse Practitioner in 2011. She lives with her husband and son, and enjoys spending time with her family and painting. She is bilingual in English and Spanish.
Kristina Hanley, Acupuncturist
Kristina graduated from the University of California in Santa Cruz in 1990 with a BA in Psychobiology. She has a long history with the Santa Cruz Women's Health Center starting as a Medical Assistant volunteer in 1989 and then working as a Services Coordinator from 1990 to 1992. Kristina graduated from the Oregon College of Oriental Medicine with a Master's degree in Chinese Medicine in 1998. After graduating, she worked as an acupuncturist in the San Fancisco jails and at the Portland Alternative Health Center, where she treated clients who were both homeless and addicted to drugs and alcohol. Since 2003, Kristina has been working at the Women's Health Center as an acupuncturist. She currently sees patients at both the Women's Health Center and the East Cliff Family Health Center. Since 2008, Kristina has also been on the faculty at Five Branches University where she teaches acupuncture protocols to help the clients at Janus of Santa Cruz detox from drugs and alcohol. Kristina feels drawn to work with the underserved, low-income population and to make acupuncture accessible to all people.
Casey KirkHart, DO, Medical Director
A Long Beach native, Casey attended UC Berkeley, where he studied biology and sociology. He spent a semester abroad in Costa Rica where he perfected his Spanish and salsa skills, and met April who'd become his dance partner for life. They moved to New York for medical school, choosing a D.O. degree (Doctor of Osteopathic Medicine) for its openness to complementary medicine, its approach to the patient as a whole person, and its philosophy that physicians are teachers and guides to support the body's inherent ability to heal itself. Casey engaged in health care advocacy and activism in New York and Washington, DC, where he mobilized thousands of future physicians and community organizations to bring their voice on justice in health to the public and political forum. Casey continued to hone his clinical, leadership and advocacy skills during residency training at Harbor-UCLA, a large County hospital in Los Angeles. Casey has served as Associate Medical Director at Saban Community Clinic, a busy, urban family practice in Southern California.
Lorena Russo, MD
Lorena Bishcoff Russo MD received her bachelor's degree in biology from UC Santa Barbara, her MD from Wayne State University school of medicine in Detroit, MI and completed her family medicine residency at Ventura County Medical Center in Ventura, CA. Dr. Russo joined SCCHC is June 2015,  has been in practice for 18 years and especially enjoys women's health, pediatrics, and chronic disease management in concert with each patient. She most recently worked for Planned Parenthood in Watsonville for 14 years and was in private practice prior to that. She is married to a high school biology teacher and has 2 daughters and many dogs and cats. She loves hiking, dancing, and reading.
Glenn Macwhorter, DC, Chiropractor
Dr. Macwhorter received his BA in Biology from Bloomfield College in 1972. He received his Doctor of Chiropractic from Palmer College of Chiropractic in 1980. He was a professor at both Palmer College of Chiropractic Iowa and California for 8 years, as well as adjunct faculty at Cabrillo College. Dr. Macwhorter was the first chiropractor employed with Doctors On Duty Medical Clinics as well as being the first chiropractor certified as a provider with Santa Cruz Division of the Palo Alto Medical Foundation. He was one of the founding chiropractic providers with Central Coast Alliance for Health serving Medi-Cal and Healthy Families clients of Santa Cruz and surrounding counties since 1996. He has been in private practice in Santa Cruz county for 30 years and has been with SCWHC for over 10 years. Dr. Macwhorter is bilingual in English and Spanish and is now seeing patients at both clinic locations. He is married with 2 children and enjoys water sports, reading, travel and photography.
Kristina Mutén, MD
Dr. Mutén received her undergraduate degree in Biology at Brown University in 1981. She completed her medical training at the University of Pennsylvania in 1987 and her residency in Family Medicine at Natividad Medical Center in Salinas from 1987-1990. She started at SCCHC in August 1997 and works at the Women's Health Center.  She completed the Fellowship in Integrative Medicine through the University of Arizona in 2005 and has ongoing interests in nutrition, herbal medicines and other aspects of integrative medicine. Dr. Mutén is bilingual in English and Spanish. She is married and has two daughters, two cats and a dog. She enjoys yoga, reading, travel and cooking.

Wendy Sickels, MD
Dr. Sickels earned her undergraduate degree at UCSC in 1990 and graduated from UCLA Medical School in 1996. She completed her residency at Northridge family practice in 1999 and started work at SCCHC's Women's Health Center in January 2002. Dr. Sickels also completed an integrative medicine fellowship through the University of Arizona (Dr. Weil) in 2005. When she is not at work, she enjoys spending time with her husband and 3 children, as well as running, mountain biking, surfing, kayaking and camping.

Tom Smith, DC, Chiropractor
Tom received his chiropractic degree from Palmer College of West in 1984. He is a certified chiropractic sports practitioner with a diploma in chiropractic rehabilitation. Tom has been working at the Santa Cruz Women's Health Center since 2004. He is a Qualified Medical Examiner for the state of California and is the sole owner of Chiropractic clinic in Santa Cruz since 1988. Tom takes a rehabilitation and exercise approach to injuries with a focus on self-care. He is highly involved in sports and is a high school basketball referee. He coaches youth soccer, basketball and baseball. Tom also plays adult baseball and is an active exerciser. Tom has 3 boys between the ages 9 and 13.
Emily Vandenberg, NP
Emily is a board certified Family Nurse Practitioner with the American Academy of Nurse Practitioners. She completed her MS in Nursing and her Family Nurse Practitioner Certificate at Western University of Health Sciences in 2016. Emily receiver her Bachelor of Nursing degree from CSU Stanislaus and has been a RN from 2012. Emily has an undergraduate degree in Language Studies from UCSC in 2007. She enjoys living in her hometown, Santa Cruz, near the beach and the redwoods. She spends her free time with family and friends hiking, gardening, and traveling.
Jill Winters, LCSW, Behavioral Health Team
Jill Winters is a Licensed Clinical Social Worker and the Women's Health Center's bilingual therapist since Fall of 2014. She graduated in 2000 from UCSC where she majored in Community Studies, and earned her master's degree in social work at SFSU in 2008. Jill has more than 15 years of experience working with diverse populations including children ages 0-5 years, people experiencing homelessness, substance abusers, victims of domestic violence, and the elderly. She describes her approach to psychotherapy as a whole-person, Gestalt influenced framework focusing on the "here and now". Her mission is to treat each individual with dignity and compassion, and to assist her patients to make life choices which promote growth and healing. Jill is passionate about social justice and animal welfare, and in her free time she enjoys participating in local activism, cooking, crafting, reading, and exploring nature with her dog, Shiloh.