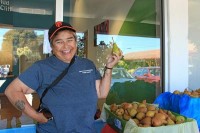 Twice a month, Gloria Nieto pulls crate after crate of fresh fruits and vegetables out of a truck and arranges them on long tables. Then, she dons a pair of gloves and waits for the crowds to come.
Nieto is a volunteer at the East Cliff Family Health Center's food distribution program, a bimonthly farmers market that gives away free produce to anyone who comes by. The health center is partnering with Second Harvest Food Bank of Santa Cruz County to make fresh fruits and vegetables available to people who cannot otherwise afford them.
The program has nearly tripled in size since it began in April, now distributing nearly 3,600 pounds of food to 250 people each month.